McElwee Pharmacies have over thirty healthcare professionals working across our 3 stores in Laois. Each member of staff is focussed on delivering the very best in service to you.
Introducing our key staff.
All our pharmacists are fully qualified and we ensure that they are kept up to date on the latest healthcare developments so that you can be assured you are getting the very best advice.
OUR PHARMACISTS
PETER J. MCELWEE
Managing Director / Pharmacist

Peter graduated from the School of Pharmacy, University College London (UCL) in 1998 and qualified as a pharmacist in 1999. Having worked with Boots the Chemists and Hickeys Pharmacies, he came to help manage the family business in 2001. Peter bought McElwee Pharmacy in 2004 and has since overseen the continued growth and development of McElwee Pharmacies to three busy stores as Managing Director with the help of Jim and Mary. A "chip off the old block", Peter has retained family values as a core element of McElwee Pharmacies.
JAMES A MCELWEE
Director / Pharmacist

James ("Jim") opened McElwee Pharmacy Mountmellick in 1975 on O'Connell Square. With a need for more space, he moved the pharmacy to what had been Pims Department Store in 1980 and further to the east side of the Square in 1990. With the foresight to see the pharmacy develop in many fields, he also fostered a well-earned reputation as a veterinary pharmacist. Jim continues to work with Peter with the management of the business and as a pharmacist.
DERMOT DONAGHY
Pharmacist

Dermot graduated from the University of Brighton with a Masters of Pharmacy in 2009. As Managing Pharmacist at our Connolly Street Store, he prides himself on providing a professional, efficient and caring pharmacy service to his patients. With extended experience in medicine use reviews, vaccinations and a naturally caring manner - Dermot is now well known to all our customers.




PAULA MURPHY
Pharmacist
Kildare native Paula initially qualified as a Microbiologist in UCD in 2000 and subsequently studied pharmacy at the Trinity College School of Pharmacy, becoming a pharmacist in 2009. Having worked for Hickeys Pharmacies for many years, Paula then went on to work with Uniphar and the Allcare group in a number of roles including clinical governance and superintendent pharmacist with Point of Care and the Allcare group. Paula came on board in 2019, managing our team in the Cedar Clinic Portlaoise.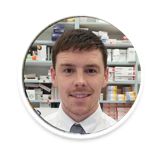 LIAM DUNNE
Pharmacist
Liam graduated from The Robert Gordon University Scotland in 2017 having achieved a distinction in his Masters of Pharmacy and was the recipient of the Tocher Medal from the RGU School of Pharmacy. Liam completed his pre-registration training with McKeevers Chemist in Newry and qualified as a pharmacist in 2018. After spending time locuming both North and South of the border, he joined the McElwee's team in March 2019 as a support pharmacist and works across all three branches.